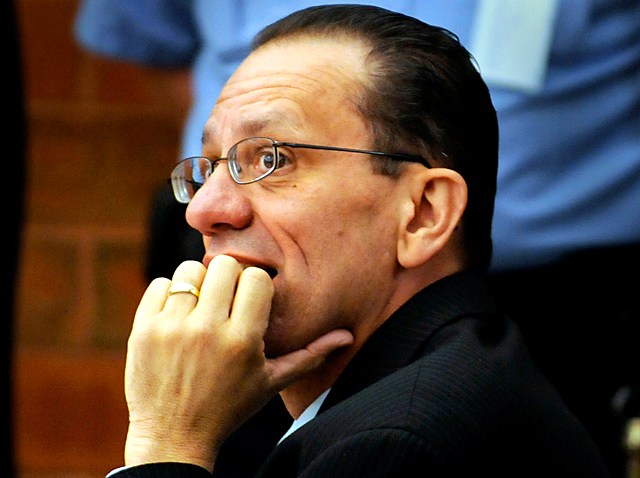 Did the politically-powerful Abraham Giles receive lucrative parking lot deals in Hartford in exchange for supporting Mayor Eddie Perez in his 2007 re-election bid?
Prosecutors say the answer is yes.
To help make their case in court on Friday morning, they highlighted what they believe was favoritism on a deal Giles received at 1214 Main St., which is a parking lot just across from the eyesore known as the "Butt Ugly Building."
Once privately owned, the lot was bought by the city in 2006. After that, Central Parking, which ran it for 20 years, was out. Giles was in, with no lease or permit, according to prosecutors.
"Central was being asked to leave on Oct. 31 so that the new operator, Abe Giles, could come on that property?" asked prosecutors.
"Correct," said Stathis Manousos, the general manager of Central Parking.
The defense contends the lot was a mess, which was one reason the city wanted a new operator.
"The other thing about the lot ,when you operated it, it was filthy. Is that true?" asked defense attorney Hubert Santos.
"I don't know if I'd characterize it as filthy," replied Manousos.
Once Giles took over 1214 Main St., he never had to clean the lot or make improvements to bring it up to code, according to prosecutors.
"There was a good deal of debris on the lot. There were potholes in the lot. It was substantially unpaved," testified James Kopencey, the former executive director of the Hartford Parking Authority, an agency that tried unsuccessfully to take over control of the lot when the city bought it.
In contrast, across the street at 1143 Main Street, right next to the "Butt Ugly Building", such improvements were demanded of developer Joseph Citino if he bought the Giles-run parking lot from the city, according to prosecutors.
Giles also had no permit or lease for that lot either, according to testimony.
Prosecutors also say the mayor demanded Citino "take care" of Giles or the sale of the parking lot at 1143 Main St. would not happen. The deal they eventually reached was $100,000 for a "lease termination agreement." The payoff fell apart after Citino realized Giles had no lease with the city.
Once the story broke about the deal at 1214 Main St., Giles applied for a permit, the city paid for some improvements and the Hartford Parking Authority gained control of the lot and put it out to bid, according to testimony. Giles did not win the bid.
The larceny by extortion charge Perez faces specifically relates to dealings with 1143 Main St. and the "Butt Ugly Building." Dealings related to the parking lot at 1214 Main St. are not part of the criminal allegations, but Judge Julia Dewey allowed the testimony so prosecutors could further detail the relationship between Giles and the mayor.
The trial continues on Monday morning, with more testimony expected from Kopencey.