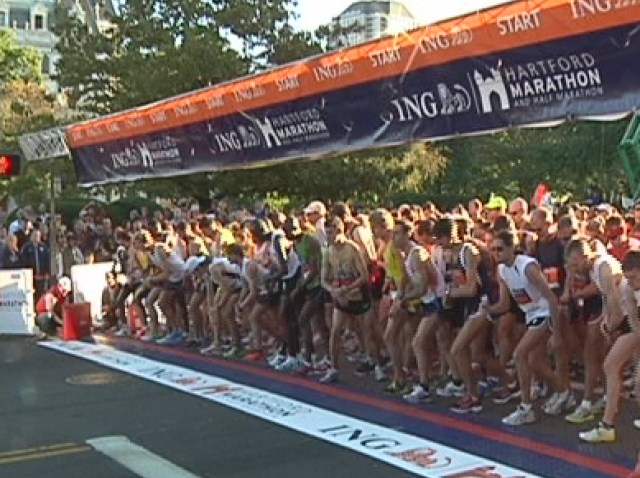 As they work to clock 26.2 miles at the 20th Hartford Marathon, runners will get a morale boost from the helpers in the blue hats.
Dr. Jasmin Hutchinson and her team of about 30 Springfield College graduate students will head to the race course on Oct. 12 to help keep runners confident and focused as they test the limits of their bodies.
"The body starts to give way, and at that point, they maybe start to have some doubts, 'I really don't know if I can do this,'" said Hutchinson.
But Hutchinson said her class of future sports psychologists and athletic counselors are well prepared and ready to deal with the worst case scenario.
"Like with Boston, you just never know what's going to happen," said Hutchinson.
It's not just the psychological help that makes Hutchinson and her team so valuable, it's the fact that she and many team members are runners themselves.
Doctoral student Dolores Christensen is also an athlete.
"It's a really good opportunity for us to directly apply what we're learning in the classroom into the community," she said.
Still, many marathoners prefer to limit distractions as they run.
"What we really want to do is be there so they can run their race. And if their race means they don't talk to us, that's fine. We just want to support them," explained Erica Beachy, another doctoral student.
Others may need medical, not just psychological help.
"You don't want to encourage a runner to keep going when really it's a physical issue and they need to stop," Hutchinson said.
But for those searching for that extra push toward the finish line, Hutchinson's "Psyching Team" is ready.
"We'll be there right on the scene to kind of jump right into stride with them: run with them, bike with them and just really try to get their head back into a better place," she said.