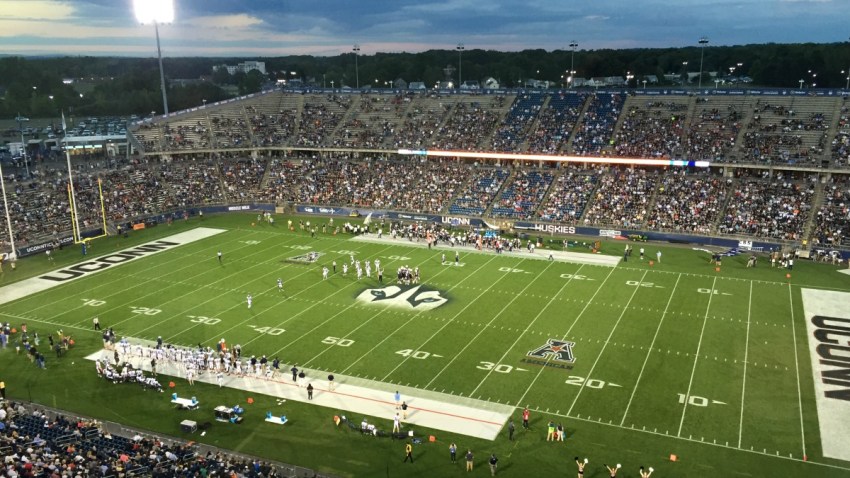 Bobby Puyol hit a 37-yard field goal with 11 seconds left and UConn avoided a season-opening upset with a 24-21 win over Maine from the Football Championship Subdivision on Thursday night.
UConn defensive tackle Mike Myers blocked a 47-yard field-goal attempt with 1:48 to play and UConn drove 50 yards in nine plays before the winning score.
Quarterback Bryant Shirreffs hit receiver Brian Lemelle with an 18-yard pass down the left sideline to set up the kick.
"It was cool to come in and kind of save the game, like a saver in baseball," Puyol said.
Shirreffs threw for 162 yards and ran for another 95. UConn tailback Ron Johnson added two rushing touchdowns for the Huskies.
Maine quarterback Dan Collins threw for 269 yards and two scores and receiver Jaleel Reed caught eight balls for 169 yards, including a 40-yard touchdown.
Black Bears cornerback Najee Goode Jr. came on a blitz, forced a Shirreffs fumble and returned it 74 yards for a score that gave Maine a 21-14 fourth-quarter lead. For a while it looked like the visitors would win the debut for 30-year-old head coach Joe Harasymiak, the youngest coach in Division I.
But UConn responded with a six-play, 54-yard drive capped by a 2-yard run from Arkeel Newsome.
The Huskies, coming off their first bowl appearance in five years, were prohibitive favorites to beat the Black Bears, and looking to make a statement as a candidate for expansion in the Big 12.
But the Huskies didn't hold a lead until Johnson, who ran for 69 yards on 15 carries, burst up the middle for a 21-yard touchdown run late in the third quarter.
Maine came right back and tied the game on Reed's touchdown catch down the middle of the field.
The junior had 105 yards receiving in the first half, including a 48-yard catch on the Black Bears' 95-yard touchdown drive that gave them a 7-0 lead after a quarter.
Maine was playing without its leading receiver from a year ago, Micah Wright, who was suspended for the first two games of the season following a disorderly conduct arrest at an off-campus party during the spring.
"I talked to Micah before the game and he let me know, 'Look, we need you, you gotta step up,' " Reed said. "That's what I intended to do whether Micah was here or not."
It's not clear whether the close game or a sparse crowd might have an impact on UConn's position in the fight for a spot in the Big 12.
The announced attendance for the opener was 29,777. The Huskies averaged just over 28,000 fans in the 40,000-seat stadium last season. They have not sold out a game since hosting Michigan in 2013.
"We can't control any of that and we're not really worried about that," said Myers. "We just try to win every one we can."
Copyright AP - Associated Press