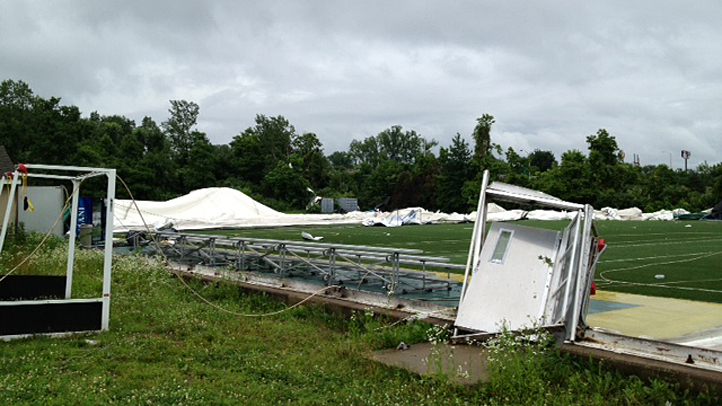 Some quick-thinking camp counselors moved campers at Sports World in East Windsor to safety just seconds before a tornado swept in on Monday and tore the dome apart.
On Monday morning, the campers' parents show their gratitude by bringing them a thank-you cake.

About 30 campers ages 5 to 12 and five counselors were playing at the multi-sport camp Monday when counselors received a weather alert on their phones informing them of a tornado warning.

Counselor Kyle Noonan said he and the other adults hurried the campers inside and under tables. It was just in time.

"Maybe two seconds after they got through the door, I looked back and heard a loud boom... and saw the top of the dome going flying into the air," Noonan said.

Dillon Merando, a camper, was on the far side of this field just a few minutes earlier. He said the experience was "pretty scary."

"Everything started shaking and the wind picked up, and it was pouring, so that's when I knew something was wrong," Merando said.

Dillon's father, Russell Mattesen of Windsor Locks, knew something was wrong. He left work and raced to Sports World.

"By the time I got here, it was already down," Mattesen said. He credits the counselors with quick thinking and saving lives.
"Luckily, everybody's safe and sound," Noonan said.
The Sports World turf was littered with heavy tarp, lighting equipment and cables. It is all that's left of the iconic white dome.