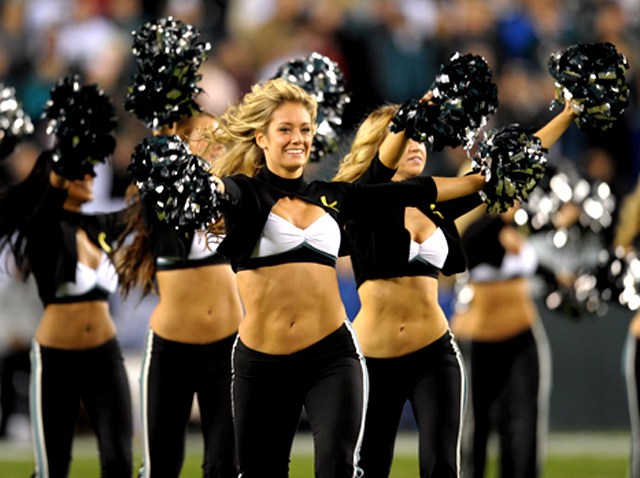 A judge has ruled that Quinnipiac University violated the rights of female athletes when it tried to get rid of the women's volleyball team and replace it with competitive cheerleading. In doing so, he also decided that cheerleading is "too underdeveloped and disorganized" to qualify as a varsity sport, at least right now.
U.S. District Judge Stefan Underhill issued a 95-page decision on Wednesday and gives the school 60 days to present a plan to show how it will comply with Title IX, a law that requires colleges to maintain equal athletic opportunities for men and women.
"The compliance plan shall provide for the continuation of the women's volleyball team during the 2010-1 season," the judge wrote. "Specifically I hold that the University's competitive cheerleading team does not qualify as a varsity sport for the purposes of Title IX and, therefore, its members may not be counted as athletic participants under the statute."
Five members of the team and their coach sued the college for gender discrimination last year after the school cut the volleyball program, but added cheerleading as a sport.
The judge did not deny that cheerleading is athletic, but denied it's considered a varsity sport. It's not recognized by the NCAA, he said.
"Competitive cheer may, some time in the future, qualify as a sport under Title IX; today, however, the activity is still too underdeveloped and disorganized to be treated as offering genuine varsity athletic participation opportunities for students," the judge said.
"The University naturally is disappointed that the court has disallowed competitive cheer as a varsity sport," Lynn Bushnell, vice president for public affairs, said in a news release . "We will continue to press for competitive cheer to become an officially recognized varsity sport in the future. Consistent with our long-standing plans to expand opportunities in women's athletics, the University intends to add women's rugby as a varsity sport beginning in the 2011-2012 academic year."
In May, the judge opened the case to include:
"All present, prospective, and future female students at Quinnipiac University who are harmed by and want to end Quinnipiac University's sex discrimination in: (1) the allocation of athletic participation opportunities; (2) the allocation of athletic financial assistance; and (3) the allocation of benefits provided to varsity athletes."
The judge also determined that the Hamden university deflated the rosters of men's teams and inflated the rosters of women's teams, including by counting female runners more than once if they participated on different teams.
The school claimed that program was being cut for budgetary reasons.