Police are investigating after racial slurs were spraypainted on the side of the Central Connecticut State University Student Center and nearby Welte Garage on Sunday.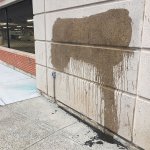 A spokesperson for the university said a facilities management team responded shortly after campus police were notified of the incident and began removing the spraypaint.
A second chemical treatment is necessary to completely remove the paint from the exterior of the Student Center.
The final application of the chemical treatment will be made on Monday.
For now, a banner has been hung to completely cover the spraypaint, the spokesperson said.