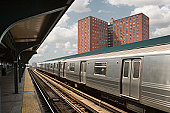 Could the possibility of a commuter rail between Waterbury and Hartford be worth exploring? U.S. Sen. Joseph Lieberman, I-Conn., says "yes." He called the extension of a light rail "a good idea." His explanation: the commuter rail would help relieve highway congestion and help the environment by reducing the amount of gasoline people use.
State lawmakers are calling for a study to determine if the use of the 25.5 mile, privately-owned freight line between Berlin and Waterbury would be a good idea. The line would stop in New Britain, Plainville, Bristol and possibly other locations as well. The study would cost $250,000.
Lieberman says he doesn't know details of the light rail project but he supports the general idea. The owner of the Massachusetts-based Pan Am Railways line estimates it would cost taxpayers over $50 million to make the necessary upgrades to the already-existing line. Currently, the commuter line is single track. State Transportation Commissioner Joseph Marie thinks the cost to change the track is really closer to $1 billion.
Lieberman says the U.S. has allowed light rail to wither away over the past four decades, which he calls a mistake. He says the proposed rail line between New Haven and Springfield, Mass. would open the door to other projects. That proposed line would likely be funded with federal stimulus money.