A sprawling cut-off low off the Carolinas is drifting north and will produce locally heavy rain in Connecticut later tonight. These cut-off lows can produce all sorts of problems (like the flash flooding in North and South Carolina over the past few days) but this one is weakening rapidly.
If nothing else tonight's rain will be a welcome drought-denter. We're not talking about enough rain to cause flooding (a big puddle under a railroad bridge doesn't count) but we are talking about enough to fill up streams, rivers, and even reservoirs some. Another drop in a bucket that needed a whole lot of filling after 2 years of below normal rain.
So far rainfall amounts have been below 1/2 inch but there are some signals that things will pick up. For one, colder cloud tops (indicative of higher clouds and even some thunderstorms) are developing off the coast of Delaware and streaming north.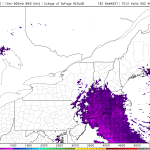 Our computer models show a surge in instability (CAPE) tonight which is a good sign for heavy rain. Convective Available Potential Energy is an acronym you'll hear a lot in the warm season and it tells us how unstable the atmosphere is. Our models show modest instability developing across southern New England after 10 p.m. this evening which should favor some more vigorous updrats leading to some thunderstorms and downpours.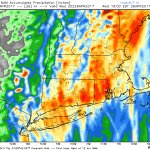 Where thunderstorms develop (especially if they linger over the same towns) we have the potential to see 1"-2" of rain in a relatively short period of time tonight. Right around midnight some towns will see one heck of a downpour. I don't think an additional 1.5" or 2.0" will be widespread but some areas will get a very good drink of water tonight. The NAM model shows localized pockets of 2" of rain which is reasonable tonight in a few towns given the large amount of moisture and the instability that develops.
Beyond tonight things gradually improve over the next 36 hours. By Friday temperatures near 80 degrees will be common inland!