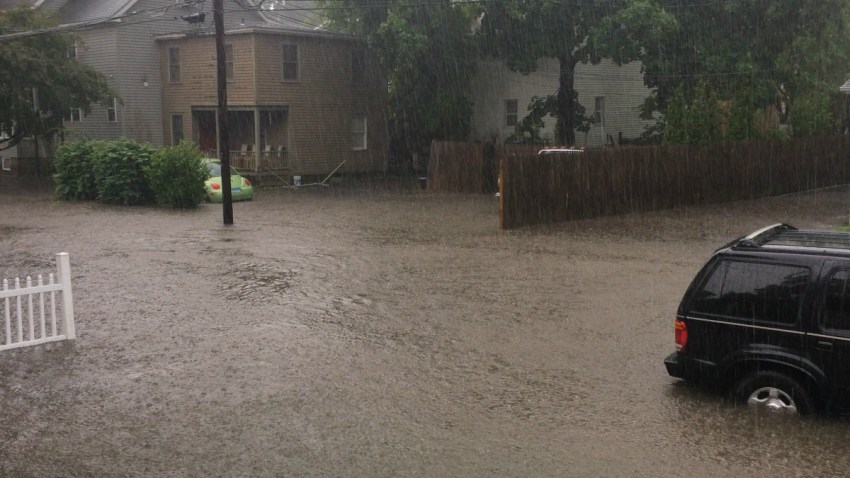 The week started with heavy downpours and flash flooding and more rain is headed our way today.
The morning commute will be wet and showers will continue until at least 3 p.m., while cloud cover will start off the day on Wednesday.
Wednesday and Thursday will bring temperatures in the 70s and tons of sunshine. Dew points will be in the 40s and 50s, meaning there won't be any humidity whatsoever!
It appears to be a mainly dry finish to the workweek on Friday, though an isolated storm is possible with a hint of humidity. That's also when temperatures return to the 80s!
A cold front comes through early Saturday, bringing a few showers to the state and skies should clear pretty quickly, so Saturday is far from a washout.
Several inches of rain have already fallen in localized areas of the state, including in Berlin, and another inch or two is possible through today.
Heavy rains on Monday caused flash flooding in Danbury late afternoon and Main Street was partially closed near Wooster Street, according to Danbury police.
A flash flood warning was issued for northern Fairfield and New Haven counties on Monday, but it had expired as of 7:45 p.m.
More than two inches of rain fell at Danbury Municipal Airport in a span of three hours, while Meriden and Hartford received nearly an inch of rain on Monday.
Flash-flooding issues also closed the pool, therapy pool and hot tub at Healthrax in Avon. The gym said that the pools would reopen today, but they advised members to call 860-284-1190 or visit the Healthtrax website to check on the pool status just in case before coming to the gym.
On Tuesday, the temperatures will be a bit higher and reach into the low-60s.
Stay with the NBC Connecticut First Alert weather team for the very latest forecast on-air, online and on the app.