Some parts of Connecticut woke up to heavy rains Friday morning, but things will start drying out as the day goes on.
Heading out later this evening? Most of the rain will be out of the state by 4 p.m.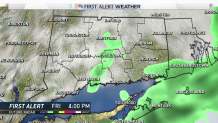 There is a slight chance that a scattered shower will move across the state later tonight. Here's a look at First Alert Future Radar which shows a few scattered showers moving through the western portion of the state.
The weekend features afternoon showers and thunderstorms with beautiful weather arriving by Sunday. Take a look at the Inland and Shoreline 3 Day Forecast.
INLAND:
SHORELINE: