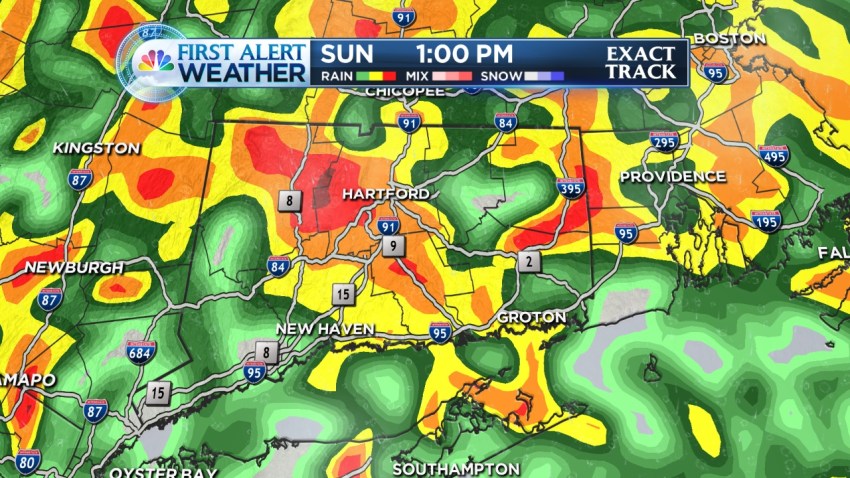 Temperatures will be warm Sunday, but rain could be problematic with a coastal flood advisory and frozen ground creating runoff issues.
There could be "minor to localized moderate coastal flooding" Sunday morning, according to the National Weather Service, which has issued a coastal flood advisory for southern Fairfield and New Haven counties Sunday from 10 a.m. to 1 p.m.
Sunday will likely see some rainfall with the heaviest precipitation happening between 10 and 11 a.m. and 4 and 5 p.m., according to NBC Connecticut First Alert Meteorologist Darren Sweeney. Wind gusts of up to 40 miles and hour could accompany the rain. As much as 1 to 1.5 inches of rain may fall, with a couple towns getting about 2 inches.
With any frozen ground, the biggest concern this brings is possible street and basement flooding as frozen ground sets the possibility for a lot of run-off.
Temperatures will be warmer reaching about 57 degrees.
An Alberta clipper is tracking too far north for significant snow in Connecticut next week, but snow showers are possible Tuesday night into Wednesday morning and that could affect the morning commute that day.
The storm to watch though next week has shown some signals of a bigger coastal storm threat Friday into the evening. The European model shows a sizable storm close by Friday afternoon.
There will be a strong storm developing somewhere in the south next week with a typical El Niño pattern on the southern jet stream. Our weather team is tracking where the storm is expected to hit.