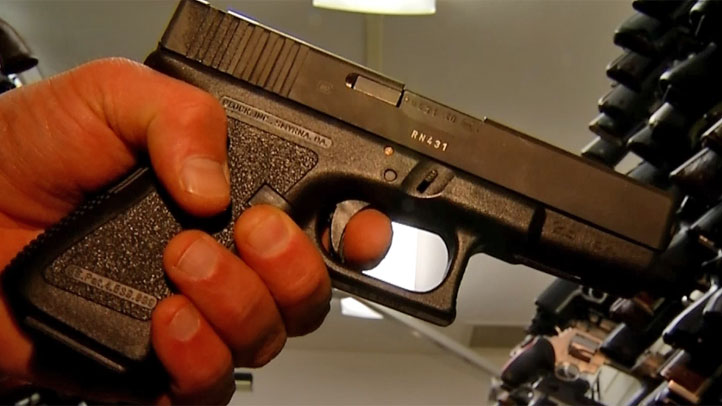 A group of mayors united to keep illegal guns out of dangerous hands has proclaimed Thursday a "National Day to Demand Action," and it is urging residence to call on Congress to vote on legislation to curb gun violence across the nation.
The national debate heated up after the school shooting in Newtown, where 20 Sandy Hook Elementary students and six educators were killed.
The Newtown Action Alliance will be holding a demonstration on Thursday outside the National Shooting Sports Foundation, which is based in Newtown.
"We are entering the most critical period for legislative action to curb gun violence nationally, and in Connecticut. At the same time, the gun lobby is pulling out all of the stops to fight any change from the status quo. They won't even support universal background checks, something that the vast majority of Americans, including gun owners support. This includes the National Sports Shooting Foundation, the second largest gun lobby, headquartered here in Newtown," the Newtown Action Alliance said in a news release.
The National Sports Shooting Foundation said it conducted its own online survey of 640 federally licensed firearms retailers and 85.7 percent opposed universal background checks.
"The concept of universal background checks sounds appealing on the surface, but the details involved in what actually would be required on the part of firearms retailers to make it work are quite another matter," Lawrence G. Keane, NSSF senior vice president and general counsel said, according to the foundation's Web site. "In fact, the obligations and burdens that would be put in place could be overwhelming for many of those who would be called upon to carry them out. It is unfair to call upon private companies, many of them quite small and with limited personnel, to conduct what essentially would be a function of government."
The alliance will be demonstrating in front of the headquarters at 4:30 p.m.
Hartford Mayor Pedro Segarra, a member of Mayors Against Illegal Guns, will be holding a rally at City Hall at 9 p.m.