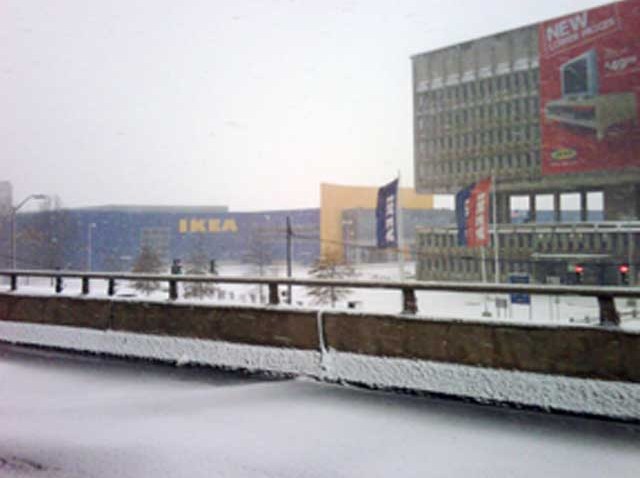 The state worked with some of the largest employers in the Hartford area on Wednesday morning to ensure that there is no mass retreat from work that clogs up roadways as snow falls on the state.
Staff was released between noon and 1 p.m., with a third of the workforce leaving each half hour.
This plan is part of an effort to avoid the 2007 snowstorm disaster when thousands of employees were released early and became stuck on clogged roadways. Rell plans to hold a conference call with the the employers Wednesday morning to consider early releases.
"The priority for every employer is safety first," Gov. M. Jodi Rell said. "We want to get our people home safely, so all of the employers who are releasing their workers early have agreed to begin a methodical release of staff between noon and 1 p.m. … This will avoid a mass exodus that ties up the highways while getting people home safely before the worst of the storm hits Greater Hartford."
In addition to state offices and large private companies, the city of Hartford plans to close city hall at 3 p.m.
Rell met on Wednesday morning with state police, emergency management, transportation and military officials to get an update on the winter storm approaching Connecticut then held conference calls with major Hartford-area employers to coordinate the staggered early release of state and private-sector workers.

"By late morning, the snowfall was already beginning to take a toll on driving conditions in Fairfield County and along the Interstate 95 corridor." Rell said. "The storm did not arrive in central Connecticut as quickly as forecasters first expected – but it is moving north at a steady 20 mph or so, and by early afternoon the predictions call for a snowfall of up to 3 inches an hour."
Late Wednesday morning there was a lull in the snow and Rell had a briefing the state Emergency Operations Center, where she learned that a mass of dry air crossed the state and caused the lull, which caused the heaviest snowfall to arrive later in the day than originally expected.
Because of early releases, CT Transit buses are running an early, supplemental service.
The governor also ordered a partial activation of the EOC, located in Hartford.
This involves the DOT, the Connecticut State Police, the Military Department and the Department of Emergency Management and Homeland Security will be monitoring the storm.