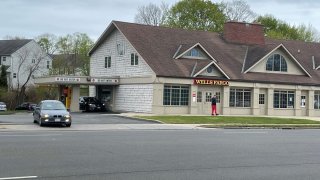 Police investigated a bomb threat at a bank in East Haven Monday.
At around 11:51 a.m., the East Haven Public Safety Dispatch Center received a 911 call from a Walgreens manager who stated they had received a phone call from an unknown number advising her to evacuate the building due to a that a bomb threat was allegedly present at the Wells Fargo Bank next door.
The unknown number on the call also advised her to evacuate the building, according to police.
Units responded to the Wells Fargo Bank on Hemingway Avenue, evacuated adjacent buildings and closed the road.
New Haven Police Department Bomb squad arrived and made a thorough sweep of the Wells Fargo Bank, Internal Medicine and M.A.D.D.
According to officials, no explosives or suspicious activity was found during the search.
The road has since re-opened and businesses have resumed normal activities.
Anyone with further information regarding the origin of the bomb threat is asked to contact Detective Jon Trinh at jtrinh@easthavenpolice.com