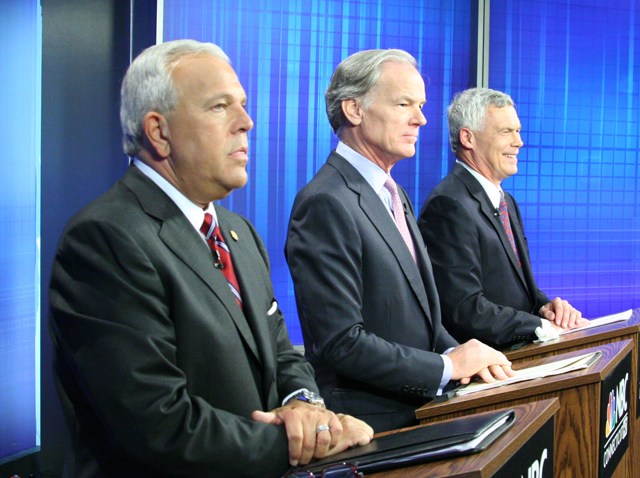 Republican Tom Foley of Greenwich, Lt. Gov. Michael Fedele of Stamford, and Simsbury business executive Oz Griebel were asked questions by an NBC Connecticut panel and voters on Wednesday and they had the opportunity to question each other.
The first question focused on the fight over publicly financing campaigns and the legal action between the candidates over the past couple of days.
"I'm participating in the program because it's there." Fedele said. "We believe that the citizen election program is one that is clean and the citizens of the state should be proud of to make sure that no special interest is there."
Foley challenged Fedele using the program.

"For the taxpayers to be paying for Michael Fedele's campaign is ridiculous," Foley said.
"I don't know why he's asking for the taxpayers to pay for his election. We really can't afford it." Griebel said, "I think the program is an overreaction to some of the political corruption issues. I think it's unfair to exclude lobbyists and state contractors. It's up to the candidate to make those donations immediately public."
We asked for question from viewers and a liquor store owner asked why her business should suffer if the state's Blue Laws are overturned. Each candidate said the government shouldn't play a role in when stores are open.
"If you don't want to be open, you shouldn't have to," Fedele said.
"I'm for the government not interfering," Foley said
"I am a believer in letting the market dictate what happens here," Griebel said.
When asked about reinstating tolls, the candidates had different views.
"Connecticut has to take more responsibility for it's own destiny. We're going to have to consider alternative funding sources," Griebel said.
Foley disagreed.
"I think the idea of tolls allows the Legislature to open the conversation of letting in more taxes," he said.
Fedele looked to the federal government for help with road projects.
"We need to be proactive to find a government that holds Washington accountable so we get what should be coming back to us." he said.
When asked about rising education costs, each agreed spending needs to be addressed.
"We're going to need to make sure that we keep our expenses flat for the next four years. We can't afford 169 of everything. We have to look at regional services for education," Griebel said.
"We have to reward success and reward programs that are working," Fedele said.
"We need to bring down the cost of education and do more with less," Foley said.
Fedele asked Griebel about his support for the return of tolls and Griebel replied: "This is about spending and getting it under control. We will have a deficit of $13 billion if we keep spending and don't find ways to generate revenue."
Foley then asked Fedele about his work in the Legislature and what he called being a "Hartford Insider."
"Tom, while you were overseas in Ireland, I was back home working with the Legislature trying to help the people of Connecticut," Fedele said.
Griebel then asked Foley to address his past, particularly his arrests years ago.
"Before I got into the race, I was told that politics was a contact sport. never imagined to think that was the case. None of these things that have been called into question, raise any questions that I cannot serve as governor. I ask all the candidates to agree to avoid personal attacks during the rest of the campaign."