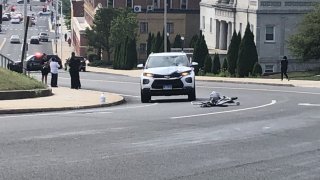 A cyclist is seriously injured after being hit by an SUV in the area of 130 East Main St. Friday afternoon, according to police.
The crash happened around 4 p.m. According to police, the male victim had head trauma and other injuries.
LifeStar was called to the scene to transport the victim to the hospital, according to authorities.
East Main Street was closed from St. Casimir Drive to Norwood Street for several hours. It has since reopened.
No other details were immediately available.