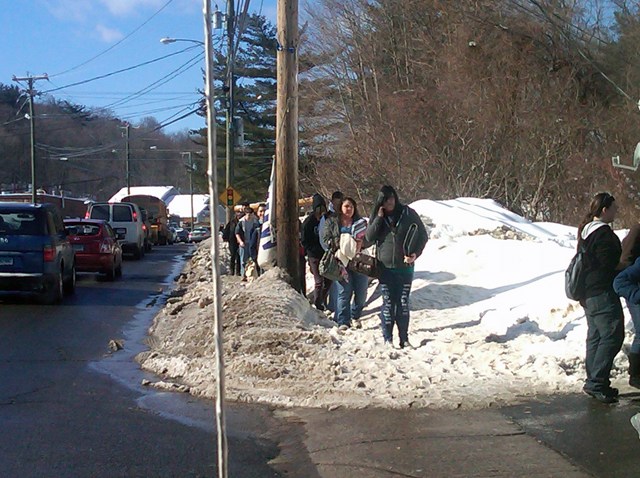 It is not snowing on Friday, but students in Naugatuck don't have school yet again.
The decision to close all schools in Naguatuck was made on Thursday afternoon, according to Mayor Robert Mezzo. The borough is bringing in contractors to remove snow from the roofs of all 10 schools in the district.
Concerns over the structural integrity of the high school forced school officials in Naugatuck to evacuate the school and dismiss students early on Thursday afternooon.
Cracks discovered earlier in the day proved not to be significant, and an engineer determined the building had suffered no structural damage, Mezzo said.
Other buildlings in Naugatuck, including the Walmart at 1100 New Haven Road and a childcare center, were evacuated during the day as well.
The problems were not limited to Naugatuck on Thursday, as evacuations were ordered in several towns across the state.
The Dowling North building at the UConn Health Center in Farmington was evacuated after concerns about the roof's integrity.
On UConn's Storrs campus, The Tasker Building, which houses the offices of admissions and events as well as several staff members from the Neag School of Education, is temporarily closed because of snow on its roof.
UConn Public Safety and staff from the university's Architectural and Engineering Services office are assessing the building and crews are checking buildings on all campuses and removing snow when needed.
The Home Depot, at 1055 N. Colony Road, Route 5 in Wallingford, was evacuated and closed on Thursday morning due to concerns over roof concerns, as was the Shop Rite in Wallingford as well. The Stop & Shop on Cottage Grove Road in Bloomfield closed because of structural concerns.
The Petco and Savers building at 432 Buckland Hills Drive in Manchester was evacuated because of concerns about the roof.
An elderly housing complex on Maxwell Drive in Rocky Hill was evacuated and inspectors were look at structural integrity of roof.
RR Donnelley printers, on Redstone Road in Manchester, evacuated the building and sent employees home on Thursday morning due to suspect roof safety concerns.
Windsor Medical Center, at 74 Mack St., in Windsor, closed due to structural concerns and people removed snow from the roof.
Hartford Mayor Pedro Segarra told the team at the License and Inspection Division of Development Services to inspect city and school buildings to make sure that the roofs and the facilities are structurally sound and can withstand the weight of the record-breaking snowfall.
Wapping Elementary School in South Windsor was closed for the day to allow staff to remove snow.
An entire plaza at 72 Shaker Road in Enfield was evacuated. It includes the Joshua Center, for special needs children. Students were sent home for the day and there will be no school for the Joshua Center – Enfield Clinical Day Treatment program on Friday.
An elderly housing complex on Maxwell Drive, Rocky Hill has been evacuated and inspectors looking at structural integrity of roof.
Follow us on Twitter @NBCConnecticut, on Facebook, and sign up for breaking news SMS alerts on your phone by texting "CTBREAKING" to 622669.