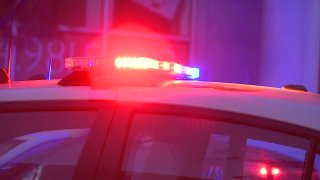 A man has died after a two-car crash on Route 111 in Trumbull Monday afternoon.
Route 111 was closed while police conducted their investigation. It has since partially reopened, and is expected to fully reopen by the morning.
Authorities responded to the area at about 4 p.m. after receiving several 911 calls reporting the serious crash at the intersection of Technology Drive.
Police said 22-year-old Xavier Miller, of Bridgeport, was the driver of an Infiniti that crashed into a Subaru Crosstrek. The Infiniti went up in flames and first responders were unable to access to car because it was entangled with an electrical utility pole.
The driver of the other car involved in the crash was taken to a nearby hospital with non-life threatening injuries.
Drivers were asked to avoid the area for several hours. Several fire departments responded to the scene to help put out the blaze.
The Trumbull and Monroe police department's traffic divisions are investigating. Anyone with information is asked to contact police at 203-261-3665.