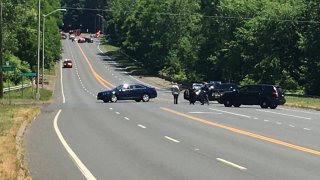 A crash involving a motorcycle and several vehicles on Route 218 in Windsor on Tuesday may have been caused by a road rage incident, according to police.
The crash happened around 12:30 p.m. at the bottom of the off-ramp from Interstate 291 where it meets Route 218.
A pickup truck rolled over, striking several other vehicles. Witnesses told officers that it appeared the pickup was chasing the motorcycle in a "road rage-type manner," according to police.
At least six vehicles and the motorcycle were involved.
Police said 4 or 5 people were taken to the hospital with serious injuries.
The road remained closed for most of Tuesday afternoon.