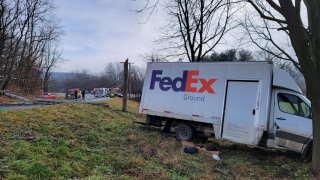 One person was seriously hurt after a head-on crash involving a FedEx truck in North Canaan Wednesday.
Police said the truck and a Volkswagen Jetta were traveling on opposite directions on Route 44 when the truck crossed the double yellow line and collided with the Jetta.
The driver of the Jetta had to be extricated and was taken to the hospital with serious injuries. The truck driver was also transported, with minor injuries.
The crash also brought wires down and left the road closed for several hours.
The cause of the crash remains under investigation.