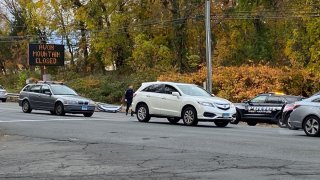 Several people were injured after two separate car crashes in the area of Albany Avenue in West Hartford on Thursday.
West Hartford Police said they responded to the area of Albany Avenue and Ferncliff Drive at approximately 3:10 p.m. for a multi-car crash. Responding officers saw four vehicles were involved and three had heavy damage.
Two passengers were taken to the hospital with injuries, police said. One of the injured is undergoing surgery and the other has non-life threatening injuries.
Authorities said that witnesses told them a car was driving erratically and struck a car, which caused the chain reaction involving four vehicles. The driver was unlicensed and uninsured, police said.
While crews were responding to this crash, a fire department vehicle was involved in a separate crash, according to police.
Officials said the accident happened at the intersection of Albany Avenue and Mountain Road.
Two passengers were transported to a local hospital for treatment of non-life threatening injuries. No firefighters were injured.
Albany Avenue was closed between Mountain Road and the Avon town line for several hours but has since reopened.
The West Hartford Police Department Accident Reconstruction Team is investigating.