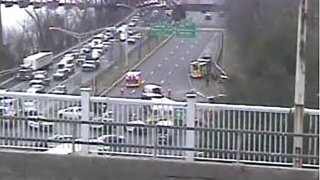 Four people were taken to the hospital after a crash on Route 9 in Middletown Friday.
Middletown Police said a Chevrolet Malibu and Kia Sorento collided at the intersection of Route 9 and Hartford Avenue. Occupants in both cars were trapped and had to be rescued by emergency crews.
One person in the Kai was taken to Hartford Hospital. One person in the Chevrolet was also taken to Hartford Hospital, and two others taken to Connecticut Children's Medical Center. The injuries appear to be non-life-threatening, police said.
The crash remains under investigation. Any witnesses are encouraged to call Officer Passacantando of the Middletown Police Department Traffic Division at 860-638-4063.