As the day began in the Capitol City on Saturday, the Eversource Hartford Marathon began to take shape.
"It's like Christmas morning for a lot of us here," said Hartford Marathon Race Director Josh Miller. "We have been planning this and replanning for many, many months," he said.
With energy and enthusiasm, runners like Joseph Carta arrived to tackle his eighth race.
"It really feels good. There's nothing like running in a race with people around you. It's the runners that give you that energy, the spectators cheering you on," Carta, of Middletown said.
There was a special spirit in the crowd as spectators watched on at the first in-person Hartford Marathon in two years.
"This feels like an important part of coming back," Hartford Mayor Luke Bronin said.
As many as 7,000 participants descended upon the Capitol City for a day full of fitness and fun.
"It's good to be back and be human and be outside exercising," Christopher Helminski, of Mystic said.
Helminski was the first to make it across the finish line for the 5K with a time of 15:22.
"This is my third year running it, first year winning it. So normally I finish around second or third, but this is my first win. It's great to be back. I went to the University of Hartford so Hartford has a special place in my heart," Helminski said.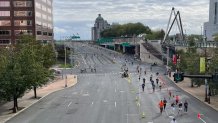 Josephine Jacob-Dolan, of New Haven, won the women's 5K with a time of 18:27.
Some came from out of town for the first time.
"I drove out here Thursday all the way from school. It's a three and a half hour drive and I was like, 'yeah I wanna race.' So I got my bib and here I am," said John Amenta, of New York. "It's everything I thought it would be," he added.
And others who are more local enjoyed the run, too.
"Ya know, it's just really fulfilling and you just feel the love from the atmosphere here. It's amazing," said Mike Powers, of Bloomfield.
A highlight for many was that the Hartford Marathon was back in person and that's another sign that we're on the road to normalcy amid the ongoing pandemic.
The top five marathon finishers include:
Alex Norstrom, 25, of Coventry, CT (2:20:39)
Jason Ayr, 34, of Philadelphia, PA (2:23:06)
Andrew McCann, 33, of Westerly, RI (2:24:05)
Everett Hackett, 31, of Hartford, CT (2:26:35)
Antonio Wilson, 32, of Everett, MA (2:27:44)
The top five women's marathon winners include:
Christine Myers, 23, Altamont, NY (2:48:32)
Jenna Gigliotti, 28, Amherst, MA (2:52:11)
Lauren Ross, 30, Portland, OR (2:52:18)
Shayna Barbash, 29, Missoula, MT (2:53:34)
Amanda Moore, 35, Mesa, AZ (2:56:07)