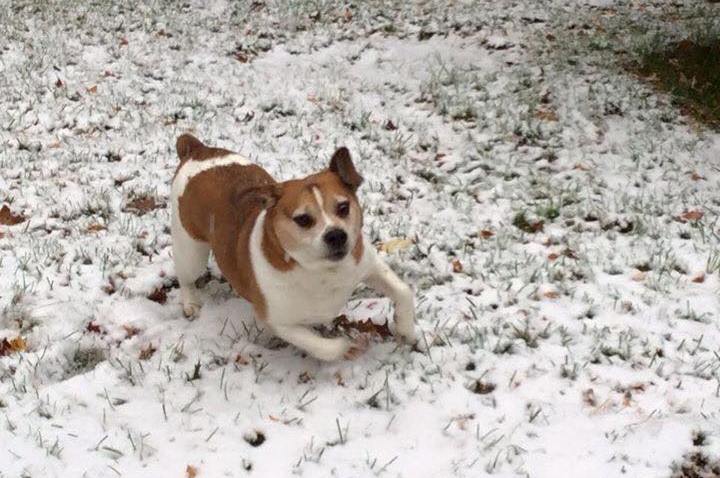 Evening update: Today's storm turned out to be a bit of an overperformer across parts of Connecticut! A thump of snow during the middle of the afternoon managed to accumulate on all surfaces (even roads) in the valley locations from Hartford up through the Farmington Valley. Intensity of snow is by far the most important in factor in whether or not snow accumulates on the roads (temperature of the road prior to the snow is almost completely irrelevant if the snow comes down hard enough). Farther northwest, up to 2.9" of snow accumulated in the higher elevations of Colebrook!
That burst of snow around Hartford managed to drop 0.6" at the station in West Hartford, 1.5" at Bradley Airport, and nearly 2" in Coventry and Tolland! The 1.5" in Windsor Locks makes October 2016 the 3rd snowiest October on record (records go back to 1905) and the 2.3" at the Great Mountain Forest in Norfolk is the 9th snowiest October day (records go back to 1942).
These borderline storms are always very tough to pin down. A degree in either direction means the difference between a cold rain mixed with snow flakes and accumulating snow. It's never easy - but I'm happy we gave people several days heads up about the snow!
Midday update: Snow continues to accumulate in the hill towns of western Connecticut where 1"-2" will stick. In the Hartford area a bit of accumulation on the grassy surfaces is possible as temperatures have dropped to near 32F in moderate snow! The snow will gradually change to rain as warmer air moves in just above our heads - and also at the ground! By 5 p.m. most of the state will be seeing rain with the exception of the highest hill towns such as Hartland, Norfolk, and Colebrook.
Morning update: A few flurries have started already this morning along the New York border and that will gradually spread east as the morning goes on. While this isn't going to be a big storm - some areas will see a bit of slippery travel later today.
The easiest way to explain why we're looking at snow is that we have a significant amount of dry air between the ground and 8,000 feet up. You can see that on this forecast sounding valid at 8 a.m. in Hartford. Notice the separation between the green line (dew point) and red line (temperature) in the lowest part of the graphic? That means you have low relative humidity - or dry air!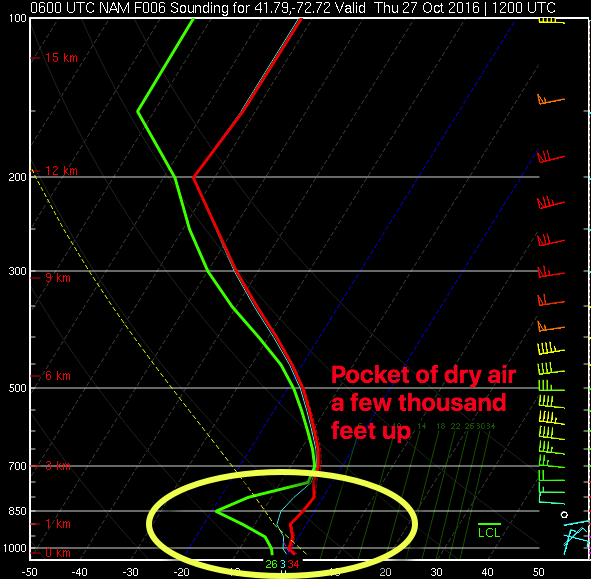 In order to get snow flakes or rain drops to the ground from the clouds above this dry layer will need to disappear. As precipitation falls through and evaporates (or sublimates in the case of snow) - energy is expending by the surrounding air to evaporate the precipitation which causes the air to cool. This is evaporational cooling - and why we'll see a bit of snow today!
A good way to look at the potential for snow is to look at the temperatures just above our heads. A good level is 925mb - which is approximately 2,500 feet up. Below is the temperature forecast (NAM) valid at 2 p.m. at 925mb which shows a solid area of <0C temperatures - especially northwest of Hartford. The second map shows the previous 3 hours of precipitation valid at 2 p.m. which indicates there is a sizable chunk of precipitation moving in at that time.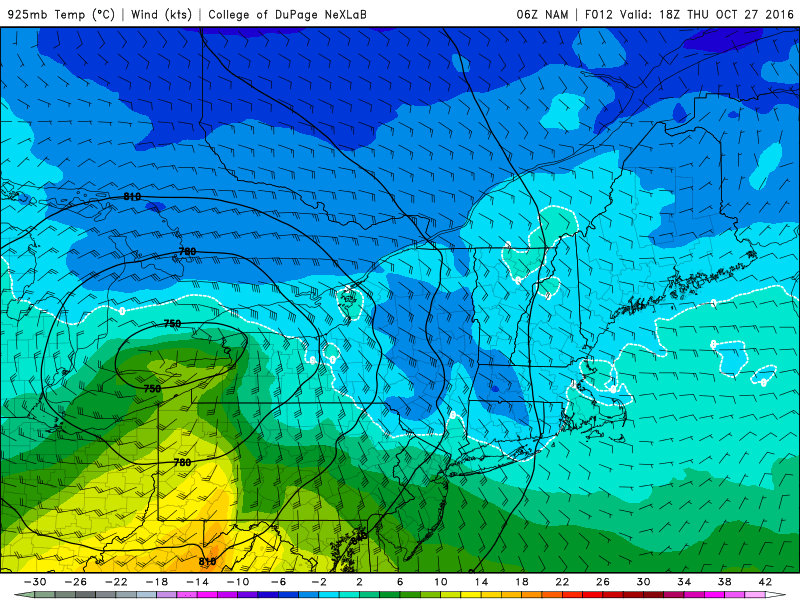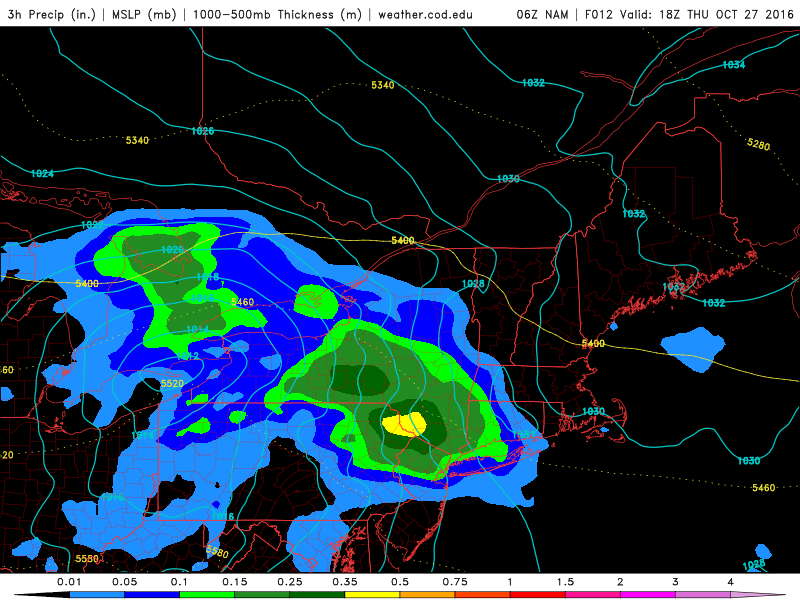 Putting it all together, a period of snow or a mix of rain and snow is likely in many towns. This includes the towns around New Haven on shoreline! However, the only places that are in the game for actual accumulation of snow will be the hill towns northwest of I-84 where temperatures near the ground will be just cold enough to see up to an inch of snow.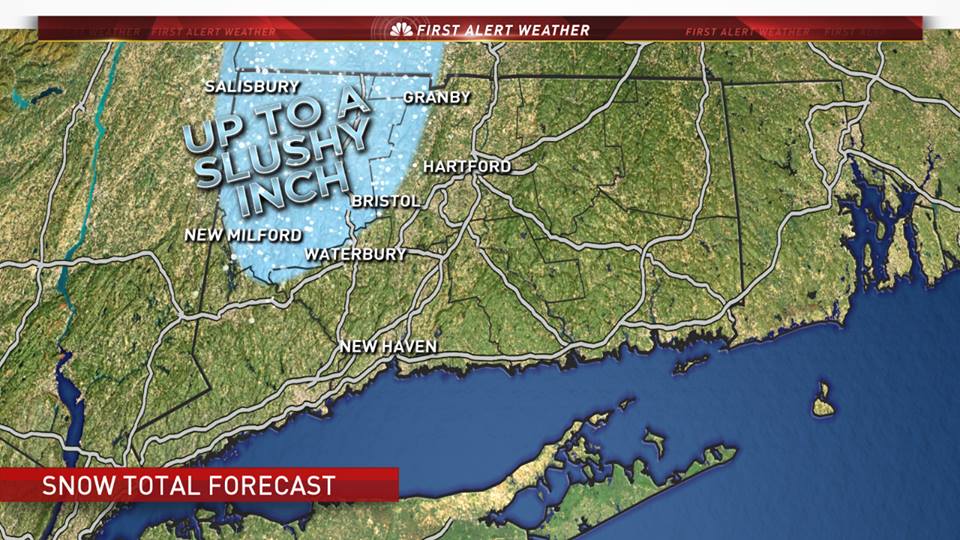 This matches up well with the NCAR ensemble (one of my favorite tools as it is a good short range/high resolution set of models) showing a good chance that temperatures will be below 32F in the higher elevations of Litchfield County. Elsewhere in the Northwest Corner, even with temperatures near 33F or 34F, if the snow comes down hard enough there could be accumulation on paved surfaces.
Temperatures will warm later this afternoon and into this evening and any snow changes over to rain. There is a chance for some heavy rain and thunder during the overnight hours - particularly along the shoreline. If the warm sector (think temperatures in the low 60s) is able to move inland past Long Island Sound there is the potential for strong winds - up to 45 or 50 mph on the coast around midnight - particularly with any thunderstorms that develop. The NCAR ensemble has mean QPF (precipitation forecast) of over 1.0" in many locations. A good rain!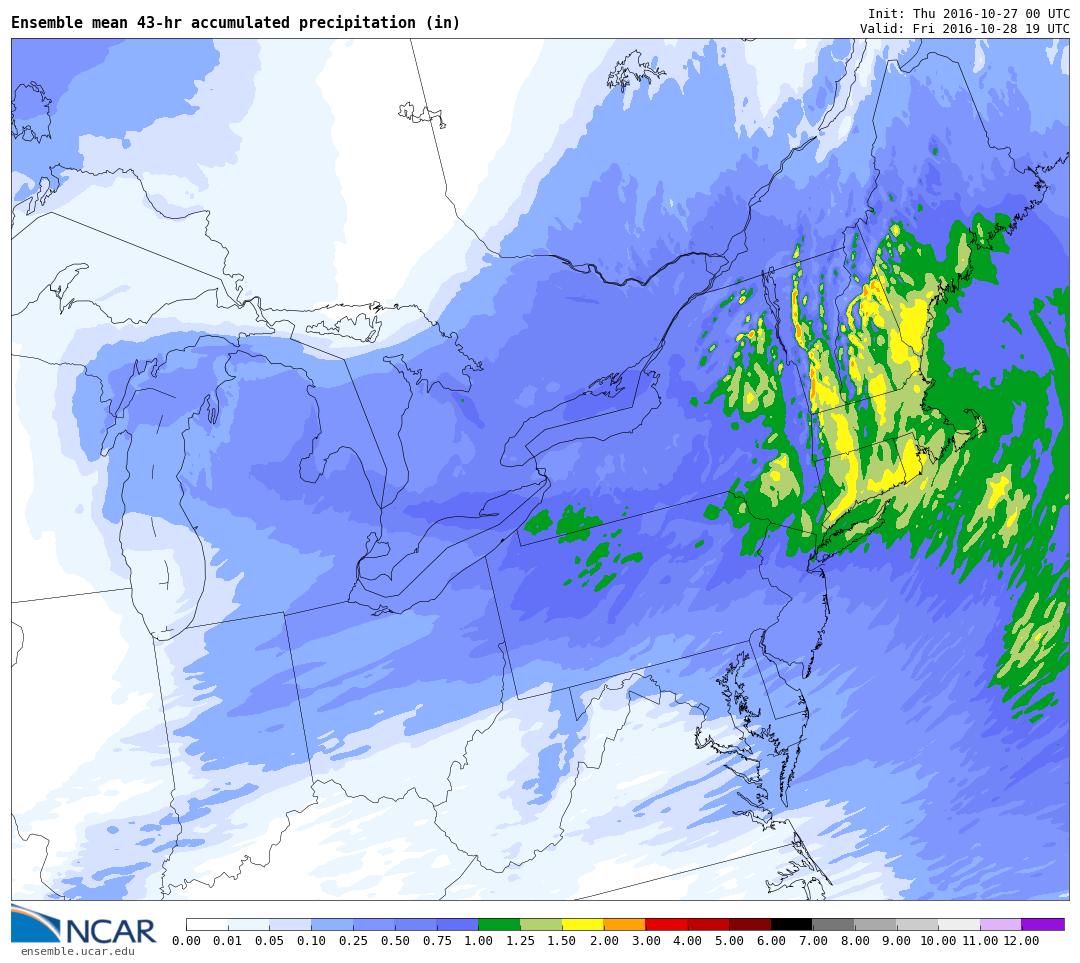 With a few flakes in the forecast - how common is October snow? Since 1905 (110 years) snow has been reported in the Hartford area on 45 calendar days but snow has only accumulated 4 times which includes the epic October 2011 snowstorm.
October 29, 2011 - 12.3"
October 10, 1979 - 1.7"
October 19, 1972 - 0.4"
October 30, 1925 - 0.1"
October 18, 2015 (and 39 previous days) - Trace
In the hills, it's a different story. There was a bit of snow on Saturday in Litchfield County and at the summit of Bear Mountain (over 2,000 feet) Jim Dayton sent in this picture of snow that had accumulated there.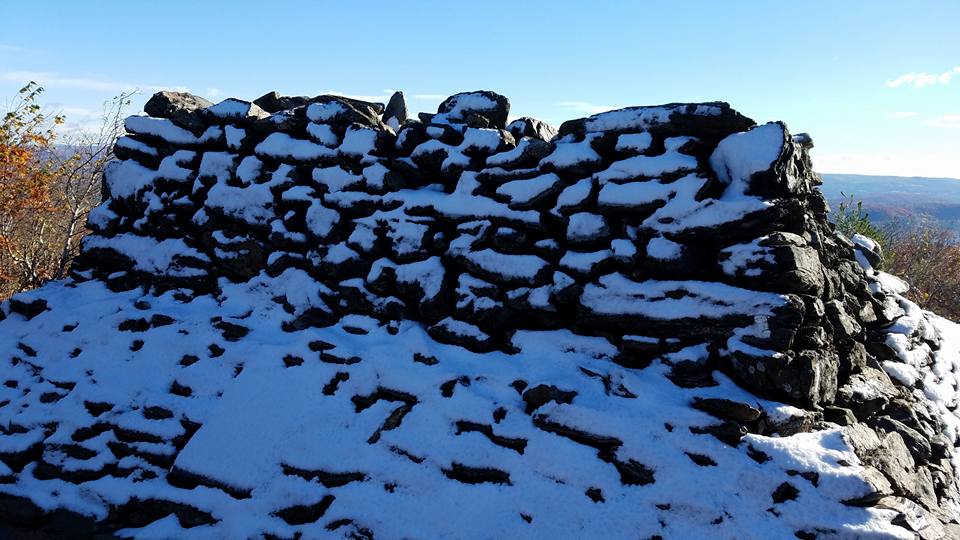 In Norfolk, the Cooperative Weather Station at the Great Mountain Forest has picked up measureable snow 33 times in their 73 years of weather observing. A trace of snow occurs almost every October.
Get the full forecast here.
Connect with me on Facebook and Twitter!