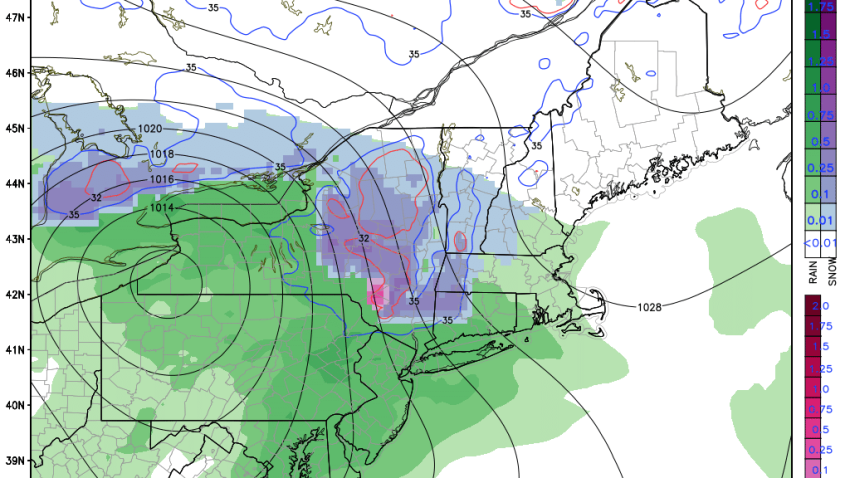 Snow in October isn't particularly unusual but it is never particularly welcome. A storm moving toward Connecticut on Thursday may run in to a cold enough air mass to produce a few flakes before temperatures warm and the precipitation changes to rain.
An unseasonably cold high pressure ahead of an advancing low pressure is a pretty classic setup for a wintry mix at a storm's onset. The time of year, however, makes getting snow a bit of a challenge. Is the antecedent airmass cold enough for it? As of this morning, many of our computer models say it is.
Take the GFS computer model. As the precipitation develops across Connecticut between 8 a.m. and 11 a.m. on Thursday it shows a temperature of -3C about 2,000 feet above the ground in Litchfield County. When forecasting what type of precipitation we'll see it's helpful to look at the lowest few thousand feet of the atmosphere - not just at the surface. A good rule of thumb is that it takes about 1200 feet of above freezing air to completely melt a snow flake.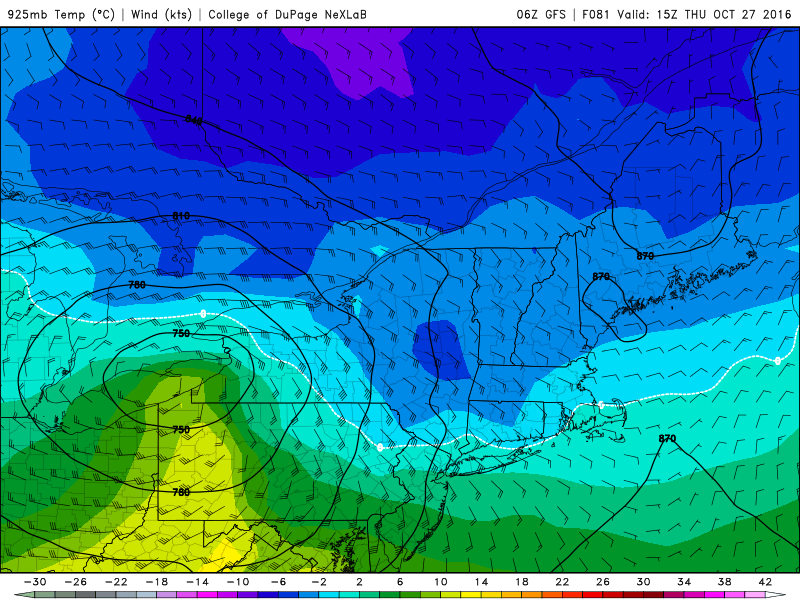 The European model and our in-house RPM model show a similar evolution which gives me a fair amount of confidence we'll see a little snow Thursday morning or midday. The question then becomes will there be any accumulation?
While the temperature a couple thousand feet up is critical in determining what kind of precipitation we'll see (snow vs rain) whether the snow sticks or not depends on what's happening right at the ground. While we can't rule out a bit of accumulation in the hill towns - odds are against it with temperature likely a bit too warm. It's close though!
I went back and looked at the snow climatology for the Hartford area to see just how common October snow is. Since 1905 (110 years) snow has been reported in the Hartford area on 45 calendar days but snow has only accumulated 4 times which includes the epic October 2011 snowstorm.
October 29, 2011 - 12.3"
October 10, 1979 - 1.7"
October 19, 1972 - 0.4"
October 30, 1925 - 0.1"
October 18, 2015 (and 39 previous days) - Trace
Get the full forecast
here
.
Connect with me on Facebook and Twitter!