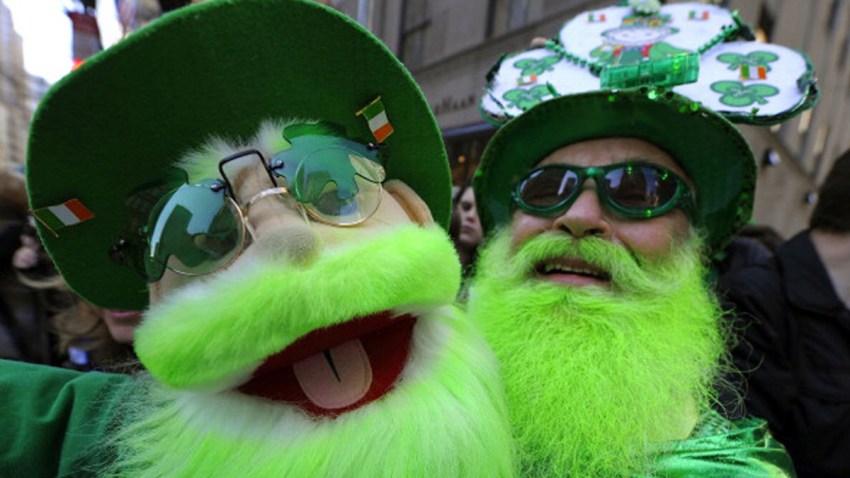 If you're looking to celebrate St. Patrick's Day in Connecticut, here are some of the best places where you can go green and drink green beers on this special day.
Hartford: Hartford will hold its 45th annual St. Patrick's Day parade on Saturday, March 12 at 11 a.m. The parade will step off at Capitol Avenue by the State Capitol, take a left on Main Street, a left on Asylum Street, a left on Ford Street, and ends by the Memorial Arch. Parking will available in various lots and garages near the XL Center area and Convention Center.
New Haven: Often regarded as one of the oldest and most popular parade in New England, the St. Patrick's Day parade of Greater New Haven is not to be missed. The parade allows everyone in the diverse community to feel Irish for a day in honor of the holiday. The event starts off Chapel Street at Sherman Avenue, and ends on Grove Street at Orange Street on Sunday, March 13 starting at 1:30 p.m.
Celebrate the luck of the Irish at Mohegan Sun in Uncasville with shopping discounts, dinning specials, and live entertainment.
On Thursday, March 17, visit the Lansdowne Irish Pub & Music House for all-day festivities, including traditional Irish music from Clan O'Cleary, an engraved commemorative Lansdowne Pub glass to the first 100 guest to walk in, drink specials, and more.
St. Patrick's meals at Seasons Buffet include Shepard's pie, Irish soda bread, corned beef and more. At Jersey Mike's, enjoy grilled pastrami reuben with Swiss cheese, sauerkraut and thousand island dressing. The Old Farmer's Almanac & General Store will offer a 50% discount on all their St. Patrick's Day merchandise.
Hartford: McKinnon's Irish Pub in Downtown Hartford will celebrate St. Patrick's Day starting at 9 a.m. with live music with Steve McCarthy & the Black Dogs and pour your own pint of Guinness.
Mystic: On Sunday, March 20 at 1 p.m., the 13th annual Irish parade will be begin at Mystic Seaport located on Greenmanville Road/Route 27, over to the Mystic Arts Center. The kids will love watching the marching bands, floats, national acts during this free event!
West Hartford: McLadden's will be opening at 9 a.m. on St. Patrick's Day. Kegs & Eggs will be served for breakfast followed by live music and drink specials throughout the day and night.
Bridgeport:
Bridgeport will celebrate its 34th annual St. Patrick's Day parade at noon on Thursday, March 17. Grand Marshal, Alanna Kabel, of Bridgeport, will lead the parade, which starts off at Harbor Yard up Broad Street to Fairfield Avenue and return to Harbor Yard via Main Street.