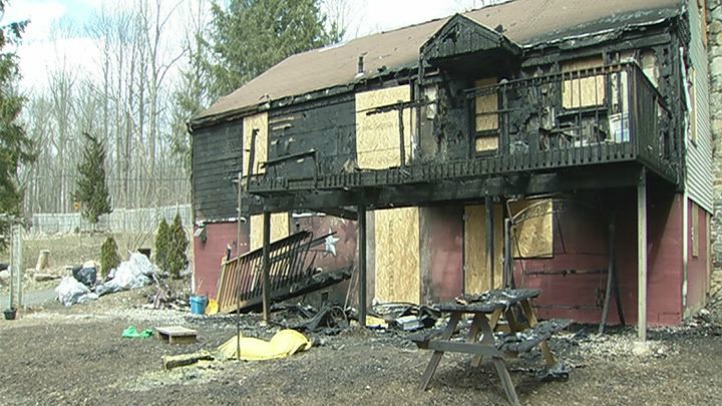 A Newtown home destroyed by a fire Wednesday was owned by a couple whose children survived the Sandy Hook Elementary School shootings in December.

The fire left Hans and Audra Barth and their three children homeless, according to Monsignor Robert Wise, of St. Rose of Lima Church. The American Red Cross has put them up in a hotel and the church is collecting donations for the family.

Two of their children attended Sandy Hook Elementary School, including Peter, a first-grader in teacher Kaitlin Roig's classroom. Roig has been called a hero for barricading her students in a bathroom as the shooter killed 20 other first-graders and six educators.

The Barth family lost everything in the fire, and their pet dog and several baby chickens died, but they are grateful to all be safe.
"I think the experience in December made us strong enough to see this as a small thing, because I mean, we're still going through the struggles of that, and it's beyond what one could imagine there," Hans Barth said Friday. "This is just a house."
The Barths are still recovering from the tragedy of the shooting, but know others in Newtown are suffering more than they are.
"That day, we picked our kids up," Audra Barth said about Dec. 14. "We picked them up, we took them home, we held them, we loved them. This is our home, yes, but it's a house. Our kids are safe."
The family has been overwhelmed by the support they've been shown by neighbors and strangers in town.
"It was just so amazing. We never had to say 'help us.' Our community was there," Audra said.
The cause of the fire is under investigation.
A close family friend, Christine Wilford, is helping collect donations for the Barths. To donate, email Wilford at thewilfordfamily@gmail.com or donate to the Barth Family Fund here.