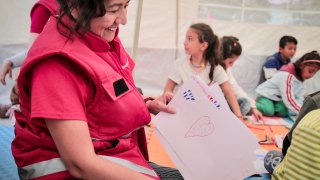 Recovery is years away in Turkey and Syria, after a massive earthquake struck in early February.
The CEO of Save the Children, which is based in Fairfield, Connecticut, is shedding light on the situation after returning from two-week a trip to Turkey on Monday.
"There are still mountains and mountains of debris. It's quite unfathomable," said Janti Soeripto, Save the Children CEO.
Soeripto started the trip in Gaziantep, a city ravaged by last month's 7.8 magnitude earthquake.
"Seeing it firsthand, knowing what the city looked like six, seven years ago when I visited there, and seeing it now, it is unbelievable, the level of destruction," Soeripto said.
Approximately 50,000 people died in the earthquake: 44,000 were in Turkey, and another 6,000 in northern Syria. That is according to Save the Children, which says one of the casualties was a staff member.
"But there's a real expectation, that number is vastly under counted," Soeripto said. "We were literally meeting people who came to us because they saw we were Save the Children, talking about their family members that were still missing. And we were standing in front of their home, where, you know, they knew that their family members were still buried."
Soeripto says people are forced to relive the trauma of the earthquake.
"There were 11,000 aftershocks since that first earthquake up until now," she said.
She says that makes people afraid to return to their homes, even if they are still standing.
"Women are still afraid to go into hospitals to give birth, because they're not sure whether that's a safe space to be," Soeripto said. "Children are still traumatized, and to not want to go into fixed structures, homes or schools."
Soeripto sees the earthquake as only compounding the crisis in Syria. The country entered its 13th year of conflict on Wednesday.​
"You already had 4 million people in humanitarian need. So that's, that's a massive concern," Soeripto said.
During her time in Turkey, Soeripto met with Save the Children teams and their local partners, as well as international donors and United Nations leadership.
She calls the need for immediate aid "enormous."
"We're really talking about the basics of clean water, shelter," Soeripto said.
Save the Children was assisting within the first 48-hours of the disaster, releasing funding to local partners that enabled them to respond with basic necessities.
However, Soeripto says there are larger tasks, like getting children back into schools, or helping kids who lost their parents find family.
"We know it's going to take many years of rebuilding," she said. "Not just physical structures, but also helping people cope with the trauma."
You can learn more about the aid efforts and get involved at SaveTheChildren.org.