The first batch of heavy rain and thunderstorms moved through the state early this morning. We're keeping our eyes on a second round of showers and storms for the afternoon.
A healthy amount of rain fell statewide. Hartford received the most with just under two inches while New Haven received the least at around a half inch.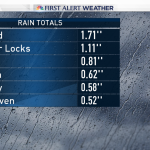 The afternoon thunderstorm threat is rather low. We're forecasting a few scattered showers and an isolated thunderstorm to impact the state between 2 p.m. and 6 p.m.
Take a look at First Alert Future Radar at 3:00 p.m.,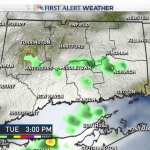 No weather issues expected for this evening. Skies will be partly cloudy with temperatures falling into the upper 60s.