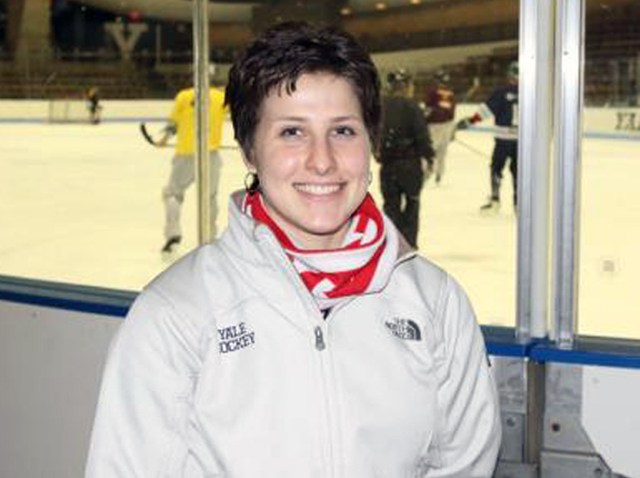 Mandi Schwartz is in desperate need of someone with the precious bone marrow or cord blood that could save her life. And she needs help quickly.
The 22-year-old Yale women's hockey player is hooked up to breathing machine, Fanhouse reports, and doctors say she only has about a month to find a donor.
Schwartz suffers from acute myeloid leukemia. She had been in remission since May 2009 but, in April, she received the unwelcome news that the cancer had returned.
She had returned to Yale, but was forced to go back to Canada to treatment and the mission to save Mandi is now international.
Yale held bone marrow registration drives for Schwartz but no perfect match was found. Last week, Yale's athletic director sent out a community-wide e-mail asking for help finding a donor.
Mandi's father, Rick Schwartz, a clinical immunologist, is also leading a search for stem cell donors, Fanhouse reports. So, the call is out for expectant moms.
Schwartz's doctor, Dr. Tedd Collins, told Fanhouse that there is an umbilical cord donor out there.
As people hunt for a donor for Mandi, she is doing anything but feeling sorry for herself, her father told Fanhouse.
Instead, she writes out thank you cards and congratulations notes for friends who are graduating and wonders why so many people are fighting for her.
The return of cancer has also put off her wedding plans. Schwartz is engaged to her high school sweetheart, Kaylem Prefontaine.
Schwartz, a senior forward for Yale has been undergoing chemotherapy in Saskatchewan, Canada and will be driven to Seattle on Wednesday to prepare for a transplant, which doctors are planning for July.
Former Yale men's hockey player Brennan Turner also has spearheaded a series of donor testing drives across Canada.
"She's realistic about her chances," Turner said. "But by us pushing so hard, it gives her a little more hope and little more positive energy."
Copyright AP - Associated Press