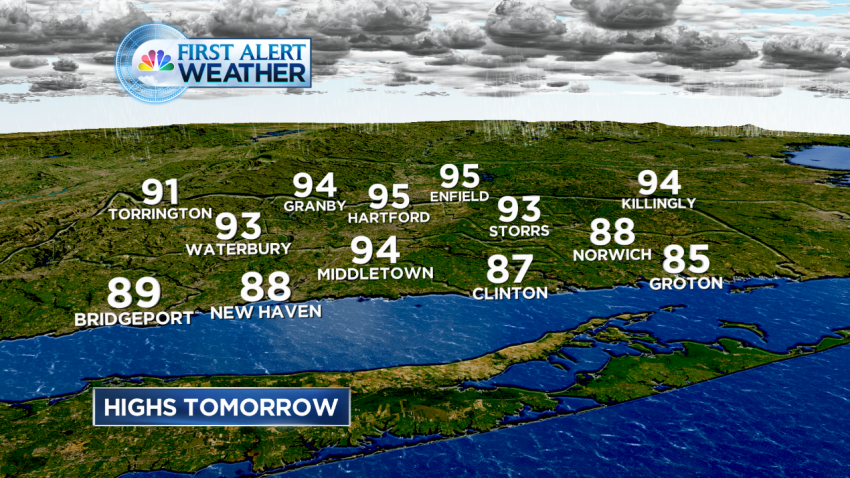 Some of the hottest weather of 2015 is expected in Connecticut on Tuesday.
The unusually warm surge of air may challenge records in some areas, according to NBC Connecticut meteorologist Ryan Hanrahan.
NBC Connecticut has declared Tuesday a First Alert Weather Day as a result.
The mercury reached 93 degrees in the Hartford area on Labor Day, tying the record for the day set back in 2007.
Temperatures on Tuesday are expected to be even hotter, with 95 degrees in the forecast. That would also tie the record for the day, set in 2007.
While the humidity was low for most of the weekend, it is expected to return Tuesday and Wednesday. Heat index values both Tuesday and Wednesday will likely reach the mid- and upper 90s at times.
Heat waves in September are unusual. If the mercury reaches 90 degrees on Wednesday, this will be the first September heat wave in Connecticut since Sept. 7, 1983.
Dry weather is expected through Wednesday, but there is a growing signal for rain by Thursday. A slow-moving front, low pressure and an increasing amount of moisture will lead to periods of showers and thunderstorms. Locally heavy rain is possible, along with thunder and lightning.
Rainfall is a good thing. The rainfall deficit at Bradley International is 5.4 inches, which is roughly five and a half weeks' worth of rain. Along the shoreline, rainfall deficits for the year are even higher and a moderate drought is underway.