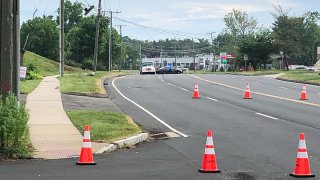 One person has life-threatening injuries after a crash in Rocky Hill early Wednesday morning.
Police said one vehicle crashed in the area of 506 Cromwell Avenue, Route 3, around 12:47 a.m. and the driver sustained serious injuries.
A police officer who heard the collision and saw the power out in the area found the scene of the crash and an ambulance brought the injured driver to the hospital.
Police have not released the name of the person who was hurt.
They said the vehicle is a 2006 maroon Ford Explorer and the preliminary investigation determined it had been going north on Cromwell Avenue.
The Mid-State Accident Reconstruction Team is investigating.
Anyone with information or who saw the crash is asked to call Sergeant Jeffrey Foss-Rugan at 860-258-2041.