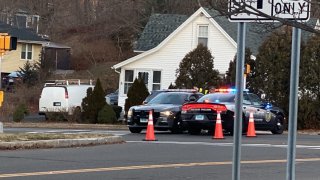 Police have identified a woman who was killed in a one-car crash on Route 80 in East Haven early Thursday morning.
According to police, 22-year-old Crystal Sedor, of Branford, was heading east on Route 80, also known as Foxon Road, around 4:15 a.m. when the crash happened.
Sedor lost control of her car and struck the business sign of John and Maria's Restaurant at 280 Foxon Road, police said.
Emergency crews removed her from the car and she was taken to the hospital where she later died.
Route 80 was closed for several hours while police investigated the crash. The road has since reopened.
Police are asking anyone who witnessed the crash to call Detective Jon Trinh at (203) 468-3831.