One person has died and two others are seriously injured after a crash in Hartford early Monday morning.
Officers were called to the intersection of New Britain Avenue and Fairfield Avenue shortly before 1 a.m. after getting a report of a serious crash.
When police arrived, they said they found a grey Ford Focus and a black Nissan Altima that had collided.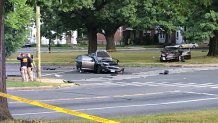 The driver and front seat passenger of the Ford Focus and the driver of the Nissan Altima were transported to the hospital to be treated for serious injuries.
According to police, the driver of the Ford Focus, later identified as 33-year-old Jermal McCall, of Hartford, was later pronounced dead.
The 33-year-old male passenger in the Ford Focus is listed in serious condition and the 29-year-old male driver of the Nissan Altima remains in serious, but stable condition, authorities said.
The crash remans under investigation.