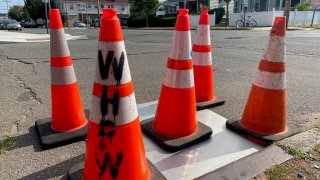 West Haven officials said they're investigating after at least five storm drain grates were stolen across the city.
Public Works Commissioner Tom J. McCarthy said they're being sold for scrap metal.
McCarthy said two grates were stolen from Forest Road. Another two grates were taken from Campbell Avenue and one more was stolen from Myrtle Avenue. All five stolen grates have recently been replaced.
Residents in the area are being advised to use caution when driving, riding a bike or walking.
Town officials said the average grate weighs about 147 pounds and they're worth about nine cents a pound.
Anyone who sees anything suspicious around storm drains is asked to call 911 or the police department's non-emergency line at 203-937-3900.
If you see a theft happen, officials are asking you to get as much information as possible on the vehicle and its occupants to then relay to the police department.
Officials said any information will help in their investigation. Additional security measures are expected to be taken.