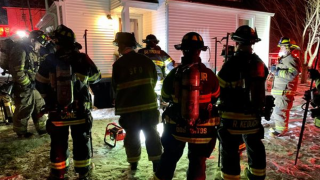 A person in Seymour accidentally set their house on fire while trying to melt the ice outside with a garden torch, officials said.
The Seymour Fire Department responded to a home on Walnut Street at approximately 5:40 p.m. Friday for the reported structure fire.
Responding crews learned that the homeowner was trying to melt the ice with a garden torch and accidentally ignited a fire on the home's siding.
The Seymour Fire Department said these devices are actually designed for weed management and can be used to mitigate ice.
Officials said a small fire was found in an exterior wall. It was quickly extinguished.
Multiple departments responded to the scene. All units cleared the scene within an hour and a half.
The fire marshal's office is investigating.
Editor's Note: A previous version of this story stated that a flamethrower was used to thaw the ice. Seymour fire officials later corrected their post and said it was a garden torch.