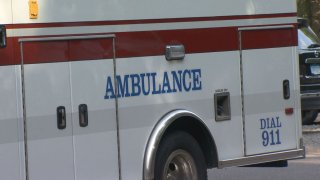 A teen from Shelton has died after two jet skis collided in Long Island Sound Tuesday evening, according to the Connecticut Department of Energy and Environmental Protection.
The Milford Fire Department said they received a 911 call just before 7 p.m. Tuesday about two jet skis colliding in the area of Cedar Beach and people on a private boat assisted with the injured until paramedics took over to provide care.
One person was transported to Bridgeport Hospital and officials from DEEP said he was pronounced deceased at Bridgeport Hospital.
They have identified him as Matthew Horvath, 18, of Shelton, and said the investigation is ongoing.
Horvath was a recent graduate of Shelton High School.
"We are deeply saddened by the loss of our recent graduate, Matthew Horvath.  He was well-liked, a hard worker, and a member of our varsity soccer team," a statement from the schools says. "Our school crisis team conveyed and offered a school community gathering yesterday afternoon.  It provided our students and their families a safe space to grieve and support one another. It was evident from the crowd of students, parents, and staff that Matt left an impact on all of us and will certainly be missed.  Our thoughts and continued support goes out to the Horvath Family"