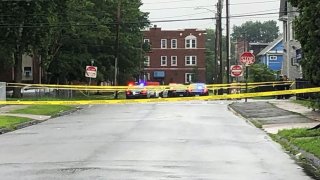 Five teens have been charged in a shooting in Hartford that injured four people and led to a police chase through multiple towns Thursday, according to Hartford police.
Police said surveillance footage shows a vehicle that was already suspected in another shooting was traveling on Nelson Street around 3 p.m. when the driver stopped and multiple people in the car began shooting at a group of people in front of 175 Nelson St.
Four men, varying in age from their 30s to 50s, were injured. They are all currently listed in stable condition, according to police.
Officers responded and engaged in what police described as a "well-controlled pursuit" of the suspects through the city and into other towns. The driver eventually stopped in Windsor and the suspects tried to flee on foot.
After a search of the area, five suspects, who were hiding in the woods near Carriage Way, were taken into custody. Police said they recovered two guns. No injuries were reported in the pursuit.
Three of the suspects, two 17-year-olds and one 16-year-old, were not identified due to their age. Police also arrested 18-year-old Ja'kye Preston and 18-year-old Shawn Chung. The suspects were charged with first-degree assault, conspiracy to commit assault, carrying a pistol without a permit, and third-degree larceny.
Multiple departments responded to assist with the suspect search.