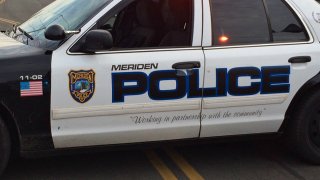 Police are investigating after a man was injured in a shooting in Meriden on Saturday morning.
Police received numerous calls of shots fired in the area of South Colony Street and Cooper Street shortly before 10 a.m. Officers said it was reported that there was a man struck by gunfure.
When police arrived to the general area, they said a vehicle was seen speeding away. Officers were able to catch up to the vehicle on South Colony Street and Perkins Square, where contact was made with the occupants.
According to police, they learned the male victim of the shooting was in the vehicle and was being transported to the hospital. Emergency crews responded to the location and began treatment on the man.
The man was later transported to the hospital for treatment of a non-life threatening gunshot wound to his leg, authorities said.
Investigators said a crime scene was found on South Colony Street and Cooper Street. Detectives are asking any residents in that area that may have home surveillance systems to check their cameras around the time of the incident for any information that could help the investigation.
All calls will remain anonymous. If you have information, you can contact Det. Visconti at (203) 630-6252.
The shooting remains under investigation.