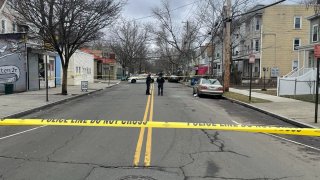 A man has critical injuries after a shooting in New Haven on Saturday.
Dispatchers received a call about someone being shot on Winchester Avenue around 11:22 a.m.
When police arrived to the area, they said they found a 39-year-old man who had been shot and was leaning against a parked, unoccupied vehicle.
The man was taken to Yale New Haven Hospital to be treated for his gunshot wound.
According to police, medical personnel said the man's injuries are critical, but he has been stabilized.
Detectives have collected evidence, spoke to witnesses and viewed video surveillance footage.
The investigation is ongoing. Anyone with information is asked to call detectives at (203) 946-6304 or by giving information through the department's anonymous tip line at 866-888-8477.