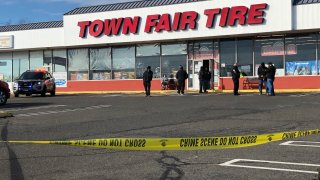 Police have identified the man who was shot and killed at Town Fair Tire in Orange on Saturday.
Officers were called to the business on Boston Post Road shortly before 9 a.m. after getting a report of gunshots fired and one person on the ground.
Police said 27-year-old Joshwua Figueroa, of New Haven, was allegedly shot multiple times by 24-year-old Terrance Allen.
Police say Allen was working as an employee of Town Fair Tire while Figueroa confronted him. He immediately fled the scene after the shooting.
Officials took Allen into custody at a local hotel just after 9 p.m. on an outstanding warrant out of New Haven for violation of probation and recently added weapons charges.
When police arrived at Town Fair Tire, they said they found a man in one of the service bays with multiple gunshot wounds.
The man was later pronounced dead, authorities said.
The nature of the dispute and the relationship between the two men is still under investigation, police said.
The shooting remains under investigation. Anyone with information is asked to contact police at 203-891-2130 in reference to case #20-41725.