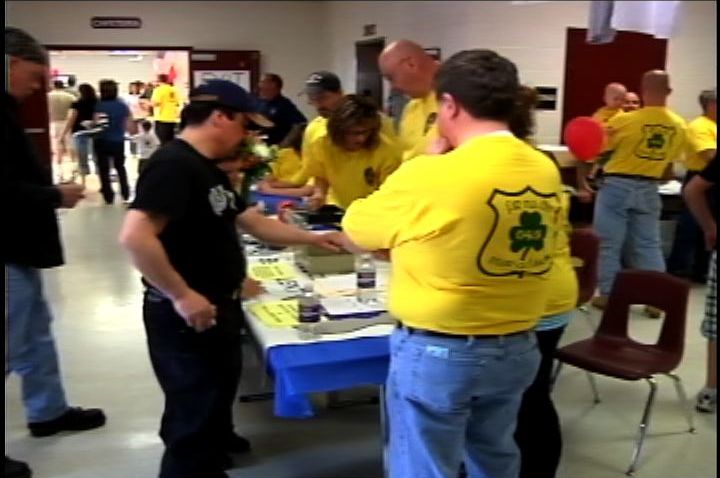 The Cheshire community came together Saturday night to help one of their police officers battling his second bout of cancer. A fundraiser at Cheshire High School was held to raise money in his honor.
Eric Tracy, 30, is fighting cancer for the second time. First it was testicular cancer, now it's attacking his lungs. But Tracy is no stranger to tragedy, his father recently died of brain cancer.
"These past two years have been crazy. Hectic between myself and my father being sick and then the recent diagnosis back in January of reoccurrence of cancer," explains Tracy.
Last year this father of three was out of work for two months, this year he's been home since January. Meanwhile his medical bills keep piling up.
To help out the Cheshire Police Benevolent Association held a benefit gathering which included pony rides and carnival games among other things.
"We thought doing an event like this is kid friendly. Eric has 3 kids of his own so we wanted to make this a family oriented event, " says Tom Bobok, the President of the Association.
Dozens of people from Cheshire and the surrounding towns came to Cheshire High School to show their support.
"People that I've never met and may never meet people that hear the story and they just want to help it's a tremendous feeling," says Tracy.
His cousin Cheryl Hessler of Ansonia says "I cant believe how many people are here. It just shows the concern that people have, I think it's great."
Tracy's fellow officers have also pitched with the one thing he needs, that money can't buy.
"We created a sick bank, which we never had before, and it's a way for them to donate vacation time where Eric can draw from that bank that we created for him," explains Bobok.
Donations from the benefit will all go to the Tracy family.