Temperatures will climb into the 80s for Monday to round out a holiday weekend of showers and colder weather.
Showers overspread portions of the state Sunday afternoon. An area of low pressure lingered around the area, bringing with it unseasonably cool conditions.
Highs for the 4th of July reached the low 70s after near record chill on Saturday.
Temperatures for Tuesday will head up to the 90s with storms possible Wednesday.
The remnants of Tropical Storm Elsa could impact Connecticut by Thursday and Friday. The latest track from the National Hurricane Center has placed Connecticut in the 'Cone of Uncertainty'.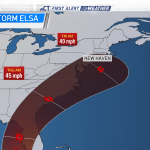 Our NBC CT meteorologists said Elsa could come close enough to bring periods of rain but damaging winds are unlikely at this time. The National Hurricane Center says the odds of tropical storm force winds are less than 5 percent across Connecticut.