Some snow fell Friday morning and there were some school delays but all eyes now are turning to a much more significant storm this weekend.
The storm could have major impacts here in Connecticut.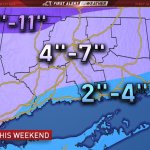 The latest model guidance indicates that snow will develop statewide on Saturday night with a transition to a wintry mix during the overnight hours and eventually over to plain rain for most of the state.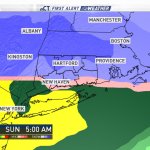 There is some indication that the majority of the storm will stay wintry for the northern third of Connecticut with a freezing rain accreting on tree limbs and power lines.
Amtrak has already announced service changes ahead of the storm.
Let's talk about the two scenarios that are possible.
Scenario 1
This storm track would be the coldest scenario with the center of lower pressure tracking along the Connecticut shoreline. This would result in mostly snow for the hills town, snow to and ice in for interior Connecticut, and snow to mix to plain rain along the shoreline. Right now it appears this scenario is less likely.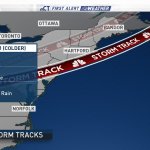 Scenario 2
If the center of a low-pressure system tracks to the northwest of Connecticut it would result in a mostly ice/rain scenario (a warmer solution). This track would result in snow to a wintry mix to plain rain in the hills with snow quickly transitioning to plain rain along the shoreline.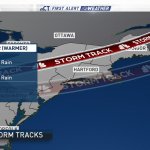 Right now it appears we could be dealing with measurable snow for interior Connecticut and especially the northwest hills with icing occurring even down to the shoreline.
One thing we are certain of is a cold blast of air will arrive right after the precipitation ends Sunday night and some very cold temperatures are expected Monday morning. This will cause a flash freeze and any untreated surfaces will become very icy and we expect slick travel Monday morning with temperatures of 0 to 10 degrees.