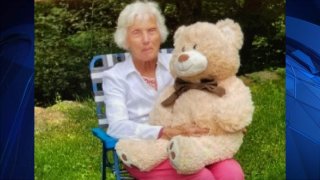 Connecticut State Police have canceled a Silver Alert for an 88-year-old woman who was missing from Pomfret after she was found safe by a state police K9 on Monday.
State police said Sylvia Perkins had been missing since Sunday and was last seen wearing a white button up cardigan with black pants and pink shoes.
On Monday morning, state police canceled the Silver Alert for Perkins after they said a state police search and rescue K9 team found her safe in a wooded area.
Kudos TFC Lachance & K-9 Tobi, a CSP Search & Rescue team for locating missing 88-year-old Pomfret woman at 10:45 a.m. today. K-9 Tobi led his partner to woods & located the woman uninjured. Due to exposure overnight, she was brought to a local hospital . Great job, K-9 Tobi! pic.twitter.com/pEPsFPBjzA

— CT State Police (@CT_STATE_POLICE) May 18, 2020
According to police, she was not injured, but she was brought to a local hospital because she was outside overnight.
It's unclear how Perkins ended up in the wooded area.