Police have issued a Silver Alert for a 3-year-old New Haven boy and his mother who have been missing since early April.
The Silver Alerts issued for 3-year-old Tristian Rathburn and his mother, 32-year-old Lauren Wojtusian, say they have been missing since April 4.
Tristian has brown hair and brown eyes.
Wojtusian is 5-feet-6 and has black hair and brown eyes.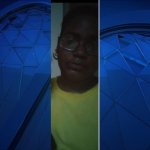 No additional information was immediately available.
Anyone with information is asked to call New Haven Police at 203-946-6321.