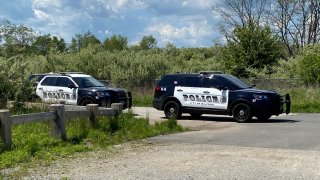 Milford police have arrested a suspect in a domestic violence incident and the search for him led police to close Silver Sands State Park for several hours Monday.
Milford police said they responded to a report of a domestic violence incident at 1:30 a.m. and the victim said a man threw coffee at her during an argument.
Police identified the suspect as 32-year-old Anthony Sliney, of West Haven.
At 9 a.m. Monday, state police reported a domestic incident between Sliney and the victim in Derby, according to Milford police.
The victim was at Bridgeport Hospital and told investigators that had been too afraid to reveal what had taken place earlier and said Sliney held a knife to her throat, threatened her, and choked her until she almost passed out.
Police determined that Sliney was in the area of Walnut Beach. When officers approached him, Sliney fled, police said.
Police located Sliney around 5 p.m. in the Walnut Beach area and took him into custody.
He was charged with assault in the third degree, strangulation in the second degree, threatening in the first degree and disorderly conduct.
He was held on $10,000 bond.
Silver Sands reopened shortly before 4 p.m., according to the Department of Energy and Environmental Protection.