One to 3 inches of snow fell throughout the state Tuesday which led to numerous issues on the roads Tuesday afternoon and caused school delays this morning.
The snow started late morning or early afternoon Tuesday across the state and scattered snow showers continued through the nighttime hours, especially for northern Connecticut. Road conditions deteriorated by Tuesday afternoon and led to a series of crashes and highway closures, including a crash on Interstate 91 in North Haven that involved 25 to 30 vehicles.
Between 10 a.m. Tuesday and 6 a.m. Wednesday, state police responded to 336 accidents and helped 134 drivers.
Crews remain out this to clear up slick roadways.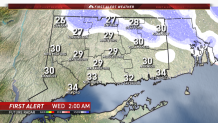 Many people enjoyed the day off from school Tuesday. Check out this gallery of photos that our viewers sent in. If you have photos of Tuesday's snow we would love to see them, send it to shareit@nbcconnecticut.com.
The weather on Wednesday improves drastically with mostly cloudy skies and temperatures near 40 degrees.