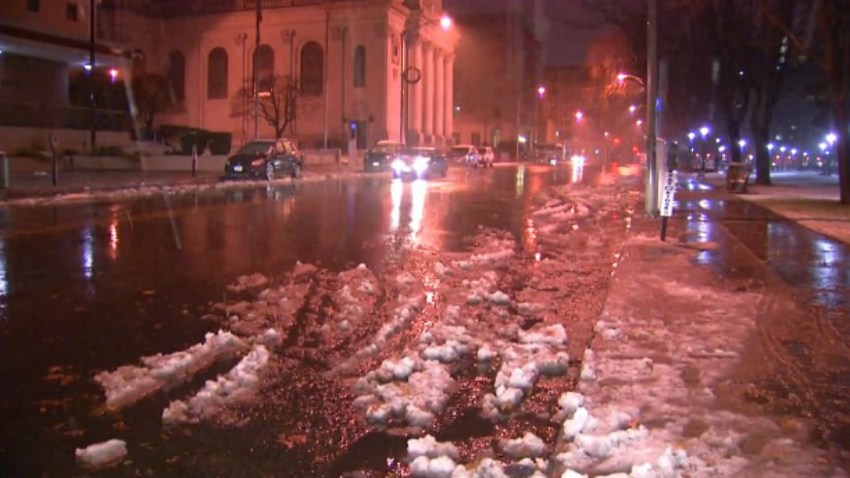 The city of Waterbury is most concerned about ice on Thanksgiving after a day of sleet, snow and rain on Wednesday.
"The trucks will be out there to sand and treat the roads, plow off anything they might have to plow off," said David Simpson, director of the Waterbury Department of Public Works.
Simpson said the department sent out 35 pieces of city equipment after 9 a.m. Wednesday and pre-treated the roads before the snow started up around 10 a.m.
The department ramped up that effort to 48 trucks around midday and is monitoring the forecast into Friday to see what the weather brings.
"Anything that's covered is slushy, and that slush, when it gets between your feet or the tires, will become slick," Simpson added.
That slush is coating every surface in the city, including Samantha Wilson's driveway on Oak Street. Wilson said she just wants to be able to get out in the morning.
"Either that or it's all ice by the time I get up," she said. "I don't mind the cold. I just hate the snow and the rain."
Neighbors down on Oak Street also spent the evening shoveling sidewalks to ensure they didn't freeze up as Thanksgiving rolls around.
"My husband is out there," said Mary Fischer, of Wolcott, who is spending the holiday at her sister's house. "He was out there a few times today shoveling. We're keeping a good eye on it because we're expecting our family to come tomorrow."
Waterbury officials said they're grateful schools are closed Thursday and Friday so they can finish their cleanup in time.