NBC Connecticut First Alert meteorologists are tracking several rounds of wintry changes through the week ahead.
There could be just enough cold air along and north of the Interstate 84 corridor for some slick spots toward the Monday morning commute. This will not be widespread, but is something to keep in mind if you live in a normally colder location and have a morning commute. Allow for some extra time.
A bigger issue to watch is the possibility of accumulating snow on Tuesday. An area of low pressure looks to form along a front nearby and will bring us another round of rain and snow. It is possible we see a plowable snow accumulation away from the shoreline. The 95 corridor (at this time) looks to warm up enough to change to rain. Details are still being worked out on exact timing and amounts. Stay with the NBC Connecticut forecast team as new information comes in.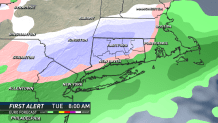 Following Tuesday's system, there will be an arctic front blowing through on Wednesday. Snow showers are possible with the front. A very cold air mass moves in for Thursday (Thanksgiving Day). Highs will struggle out of the teens in the hills and 20s elsewhere. There will be wind to accompany the cold (wind chill values in the single digits and teens). This is very cold for this time of year. The coldest it has ever been on Thanksgiving Day was a 27-degree high temperature set back in 1978. Currently, we are forecasting highs in the low to mid-20s. It will be coldest in the hills and warmest at the shore.
The cold will not stick around with moderating temperatures through the 40s for Saturday and Sunday. A chance for showers develops to close out the weekend next Sunday.
Stay with the NBC Connecticut First Alert forecast team for the latest on the holiday week changes.